A message from Simple System
06 April 2022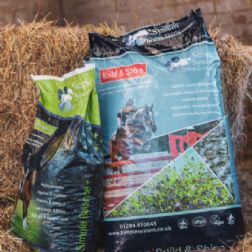 Price increases are something that we do not take lightly, and we have worked to reduce and absorb as much as we can over the past twelve months. Unfortunately, the challenges faced in agriculture and food production mean we have seen changes to our costs that we've never experienced in the last 25 years. We believe that honesty and transparency are fundamental when it comes to your trust and your confidence in us and our feeds, so we want to give you fair warning along with a clear explanation.
On 1st May 2022 our prices are going up by an average of 7.4% and there are two main reasons for this: materials and the cost of transport.
Materials The price of raw materials going into our products has increased by around 30-40% this year. We high quality, natural forages such as dried lucerne and flash dried grass, thus providing the nutritional benefits of spring and summer grazing, all year. More than half of our forage production this summer will be dried using renewable biomass energy. The other products still requiring drying using oil, coal or gas have been affected by the high cost of energy.
Transport Since 2020, we have managed to reduce the food miles of our forages by 40%. However, at the same time the pandemic caused a huge surge in transport demand, with a reduced workforce and a backlog of goods needing to be moved. We are proud of the service we have maintained through these difficult times, but the true cost of moving goods within the UK is rising. The recent rise in fuel costs has caused further increases across our pallet, courier and van deliveries.
Our focus at Simple System is to offer as many horses as possible the very best nutrition. Part of that will always be our feeds being as affordable to owners as we can manage, whilst maintaining our high standards, ethics and advice. We've considered our price increase very carefully. It does not reflect the full impact of costs on us. We continue to make improvements in growing, manufacturing and distributing our feeds, whilst supporting our staff, our customers and their horses. This doesn't mean, and will never mean, any compromise to our feeds whatsoever. We won't be looking for cheaper, lower quality ingredients. We won't be scrimping on our sustainability goals by sourcing less environmentally-friendly packaging or practices. We will continue to bring you the very best forage feed diet for your horses, with a service and support that is second to none. View the new price list here.